Village of Atlantis
The Village of Atlantis and its culture were collaboratively created and built by a fantastic team of artists and musicians.
The Village of Atlantis was dominated by a giant wooden pyramid, directly on the Esplanade.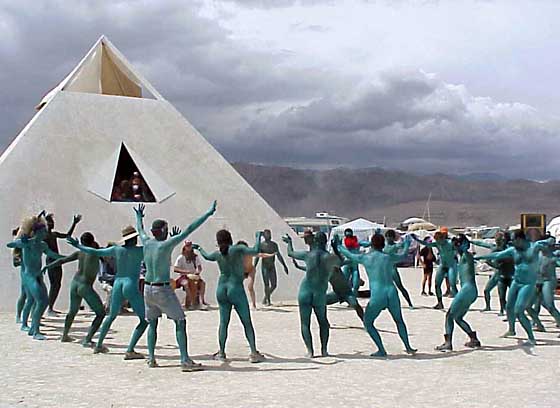 The pyramid had four-sides, each 36 feet (11 m) long. Its apex was 25 feet 8 inches (7.8 m) in height. It was constructed of wood, covered with plywood, and had two usable floors inside.
The outside was painted white and was used at night to project images upon. The Musicians' Stage was built by a truck to the right of the space in front of the pyramid. The main door into the Pyramid was on the other side, under the giant Water Woman statue.
The inside had pillars rising to the top, was covered with Atlantean symbols, and had rugs and pillows. Curtains sectioned the ground floor into a center initiation space and space for storing clothes (during initiations). Windows were placed above the second floor.
When not in use for initiations, meetings, etc. the pyramid was a gathering, chill-out space open to all Village of Atlantis denizens.
Many more images of the pyramid in use here.